This slideshow requires JavaScript.
Whatever the rumors were pre-VMAs, any man would have been out of his mind not to see what a darling family he had: A child filled with joy and wanderlust
…and a woman onstage performing for the world [igniting the second part of the same word for many men].
Married-to-the-music's royalty took a moment from their own labor of love and being On the Run this Labor Day to sit back and enjoy watching countless others get the job done-this time, they were in the audience enjoying themselves [rather than being on the stage].
The power couple, looking every bit as refreshed and renewed, attended day 2 of The Budweiser Made in America festival at Los Angeles' Grand Park on August 31 and while there, were captured in several pics together all cozy and snug (and looking playful and flirtatious at times). Despite the rumors about the XO singer and her hubby planning to "consciously uncouple," they looked every bit sober and consciously coupled yet, drunk in love as they stood by a large blowing fan
… (like the one just last year that caught Beyonce's long tresses in it while she was live on stage in Toronto).
Well, this time, while standing in front of the large blowing fan, she was wearing short bob-length hair and getting caught up in nothing but the arms of her man.
P.S.
Wait a minute, wait a minute, wait a minute…I'mma let y'all finish but…
*perplexed face*
Did you see how straight-faced and in character she was–never missing a beat or flinching while caught up in that fan?
Shhh. *throws hand*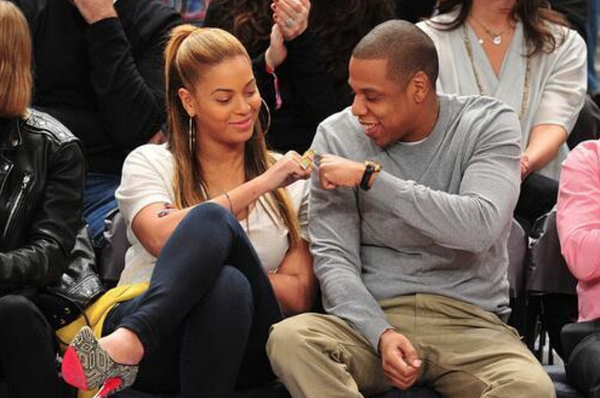 Y'alls rumors aint got NOTHIN' on her. LoL
Anywho.
Beyonce's sister Solange joined she and Jay Z at the festival as well:

Spitfire .
Media Maestro .
Writing Rhinoceros .